PART 01 - HOW TO CREATE AN ORNATE LOGO DESIGN
Hey Guys!

A few moths ago we launched Heritage Type Co. and I first of all want to thank you all very much for your great support, all the messages, comments and emails we receive daily! A lot of you were asking for a tutorial about vintage logo design so I decided to make this step by step guide to show how you can use the graphics and fonts we are providing here at Heritage Type Co.! That being said I want to point out that this tutorial only shows one of many possibilities how to use our products.

For this tutorial I will work with our Vintage Font Bundle and an illustration from our Wild Animals Illustration Set. The software I use is Adobe Illustrator CC. The Logo is created for a bar & restaurant called The Black Tiger.
So let's start! First of all it is always good to search for inspiration. I mainly use Pinterest to look for nice vintage graphics, labels or letterheads. We have a nice collection of vintage designs here for example: Vintage Advertising
Here are a few examples of inspirational images I've collected for this logo design.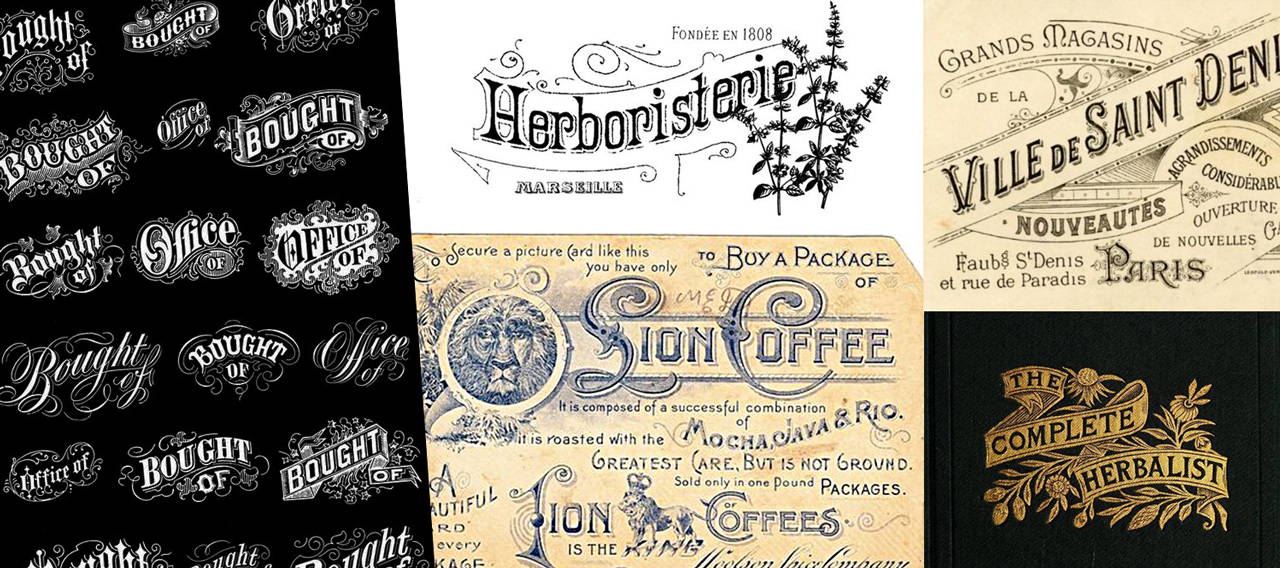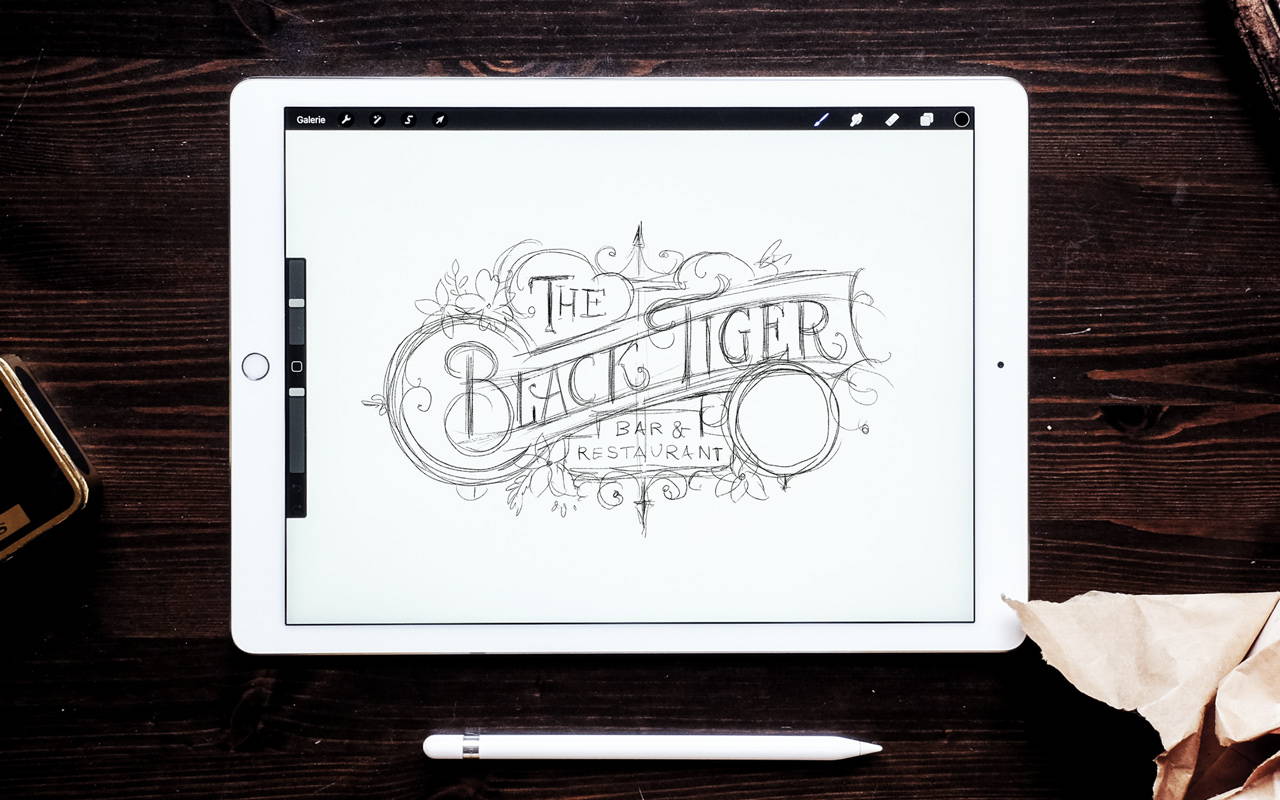 It is really hard to start from scratch, so I definitely recommend to do a small sketch before you start any detailed design work. This doesn't have to be a perfect drawing, simple lines are completely fine. You will see, this reference will make the process much easier. So go this little extra mile and give it a chance ;)
I used an iPad here, but pencil and paper is totally fine too. As you can see, this is really rough and far away from a perfect drawing. But however it is far enough to get an idea of how text and elements will be arranged.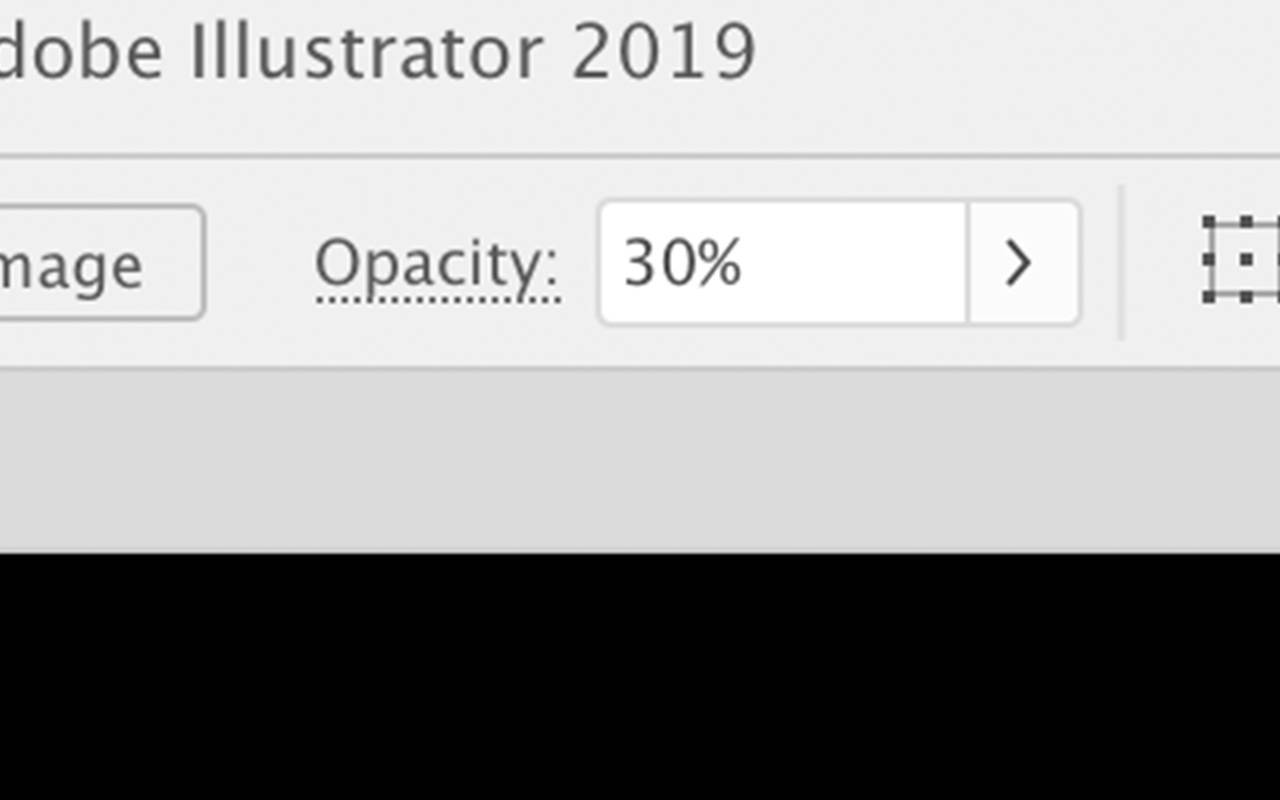 Let's open Adobe Illustrator. At first I create a background layer and make it black, as I want to use this logo on dark backgrounds later. But this is totally up to you. I place my sketch on a second layer, make it transparent (30% for example) and lock these layers, by clicking next to the eye icon in our layers window. I add two more layers, one for our graphic elements and one for our logo design.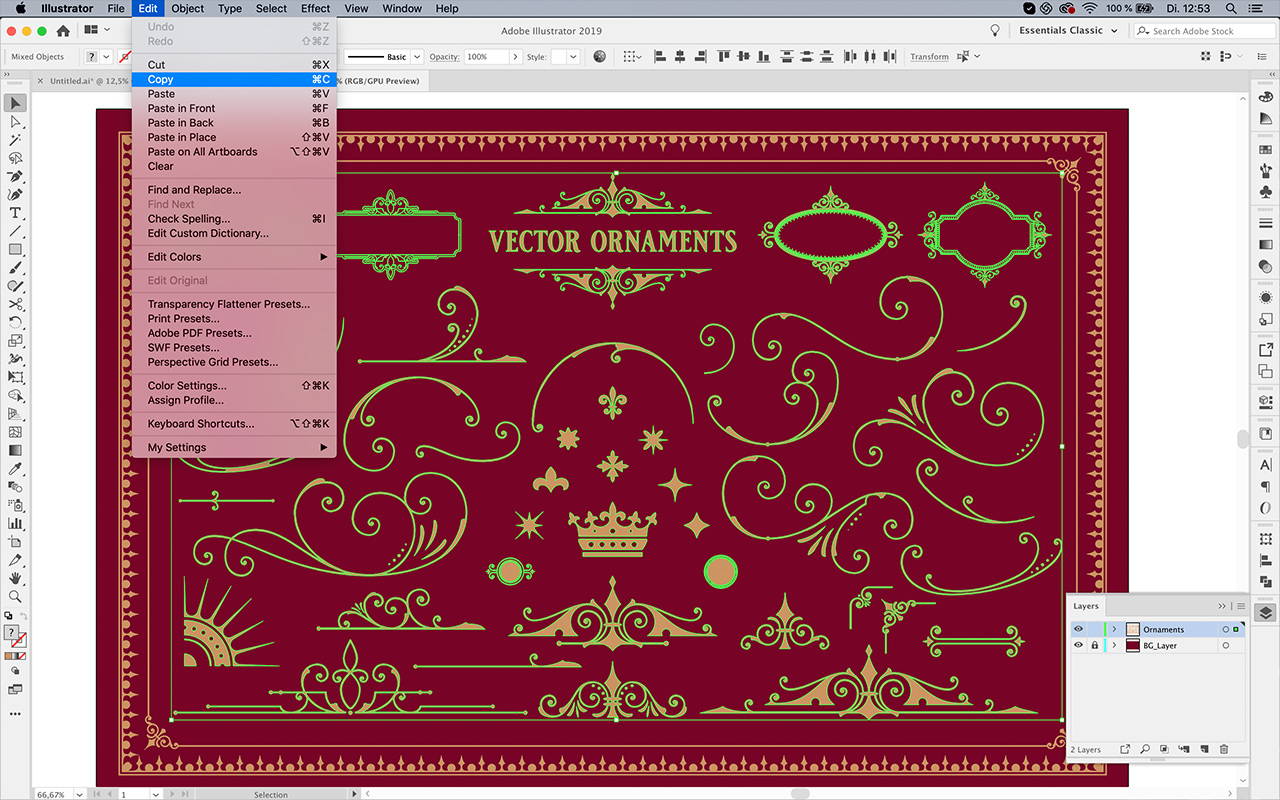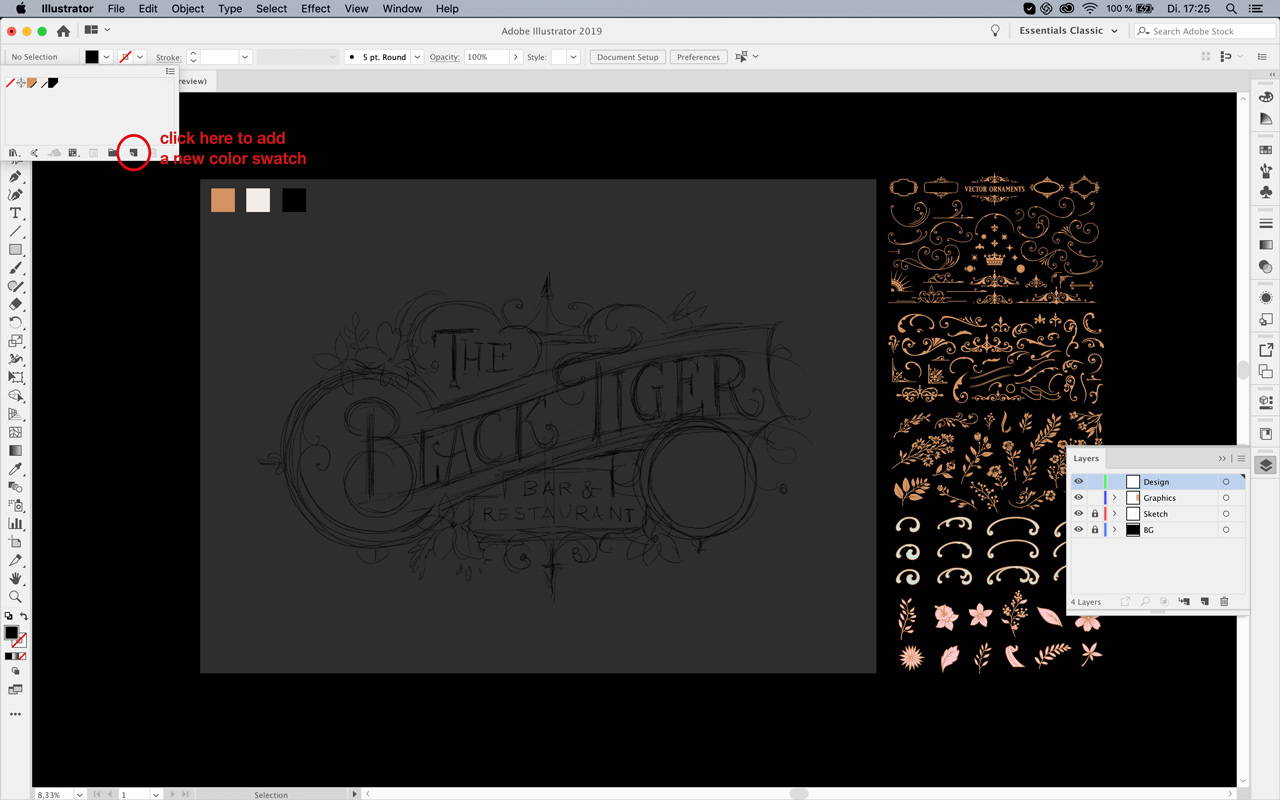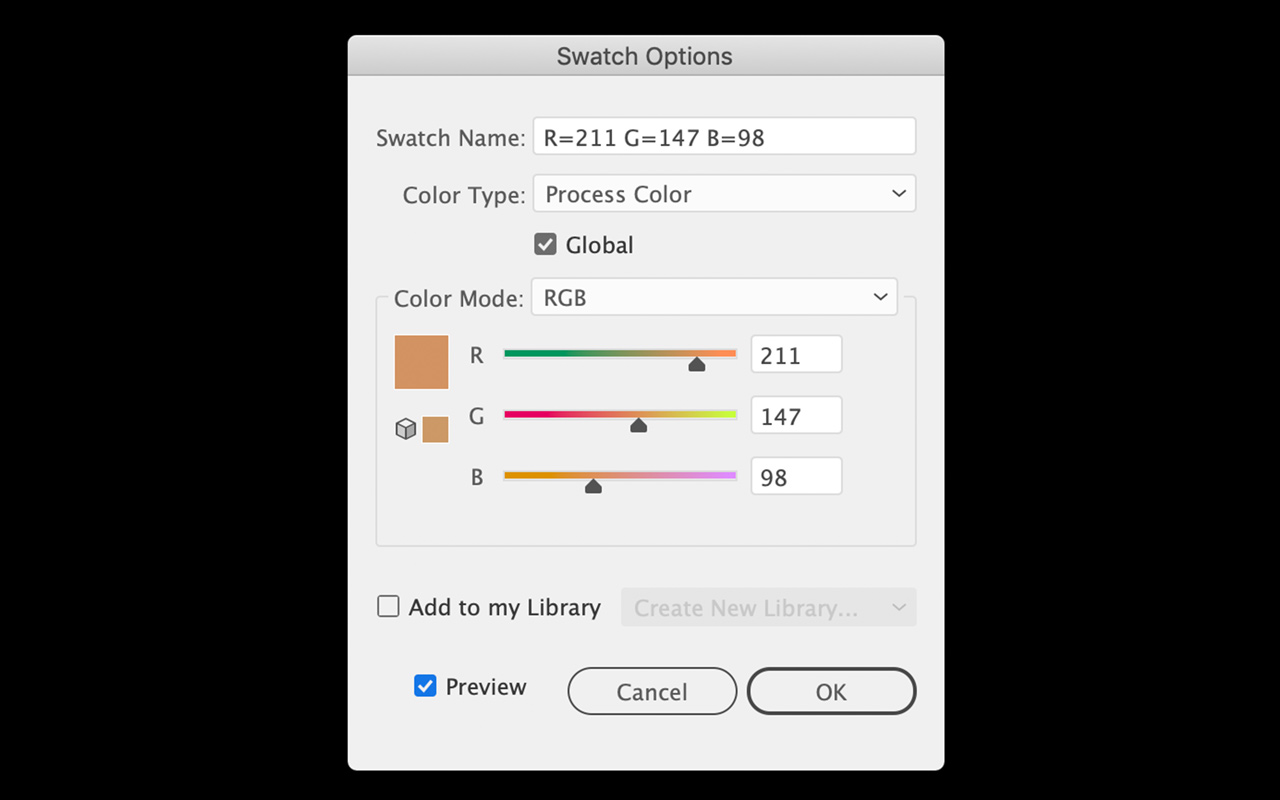 Now I copy all the extra ornaments and elements from the products within the Vintage Font Bundle on our graphics layer and place it next to the sketch. (You find the ornaments and elements within the 'Extras' folder of each item.) This helps to get a better overview.
I also create three color swatches – gold, white and black. These will be my main colors for the logo. From now on every time I add an element to the design I will pick one of these prepared colors. I recommend to switch on 'Global', this will make it easier to change colors later. Mostly there are predefined color swatches within your color window. You won't need all these, so you can simply delete them.

Tip: You can find more information about color swatches here: Use and create swatches
Tip: Here is another detailed tutorial about colors and strokes provided by Adobe: Change color and strokes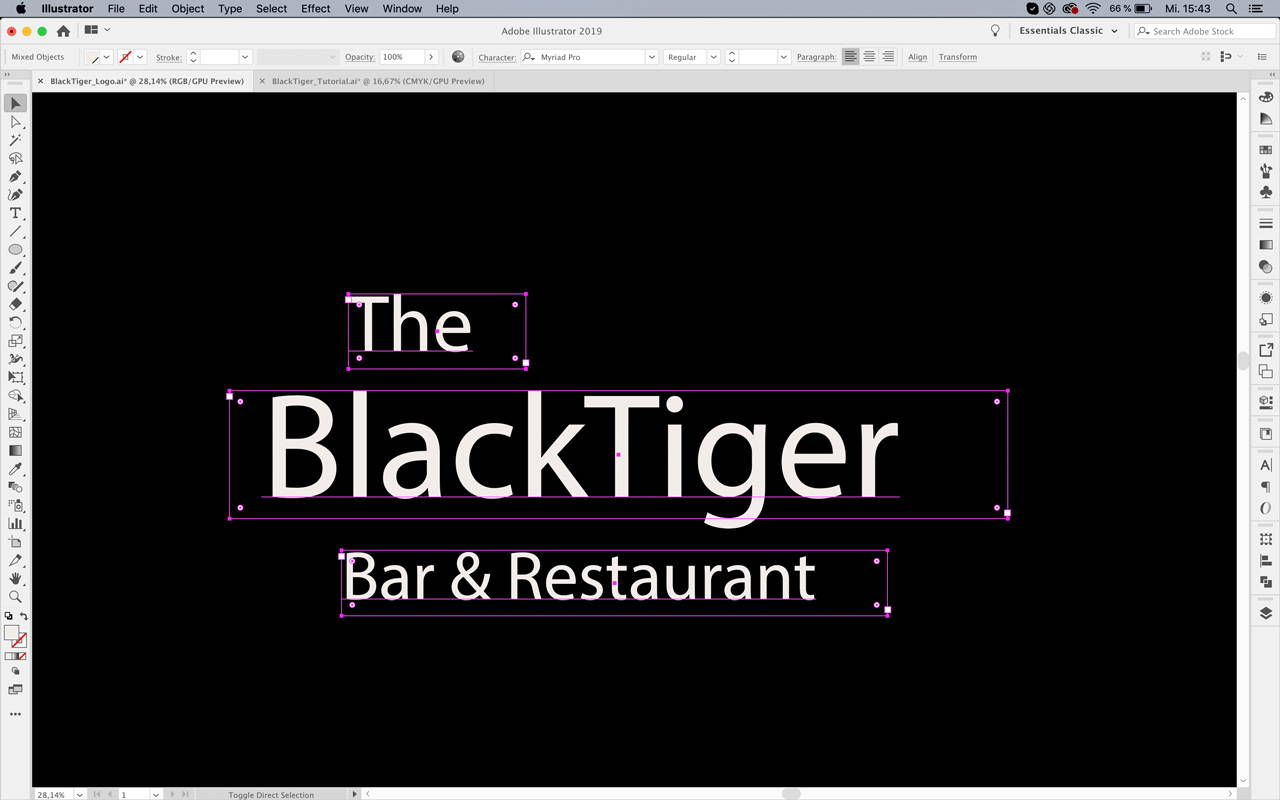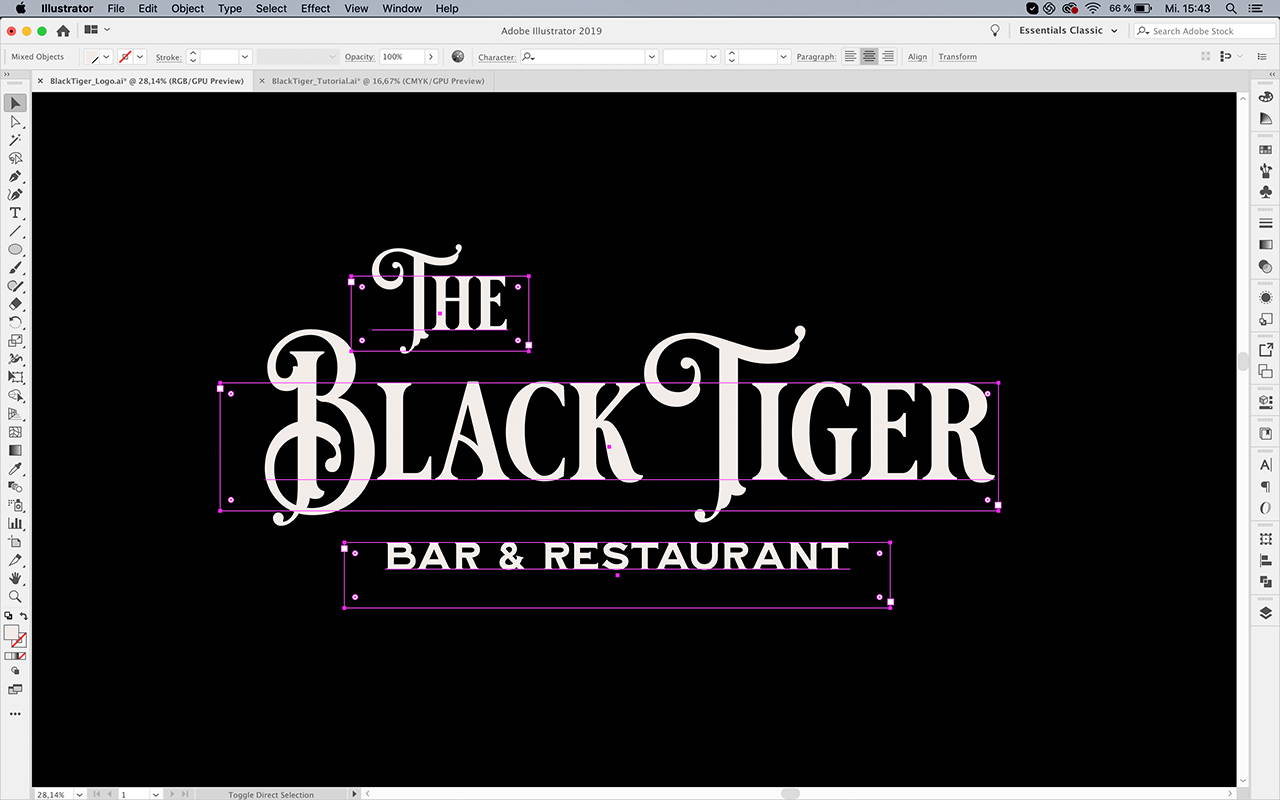 I hide my sketch and graphics layer for a minute, go to my 'Design' layer and type in the logo text. I create three different text fields using the Type Tool (T). And I choose the Royal Signage font for the main text and Old Erika for the subhead. (If you are not sure how to install the fonts, please read the Font Guide PDF, from the documents folder within your download files).

Tip: I prefer to work with high font sizes, because this makes it easier to work on details when you zoom in later.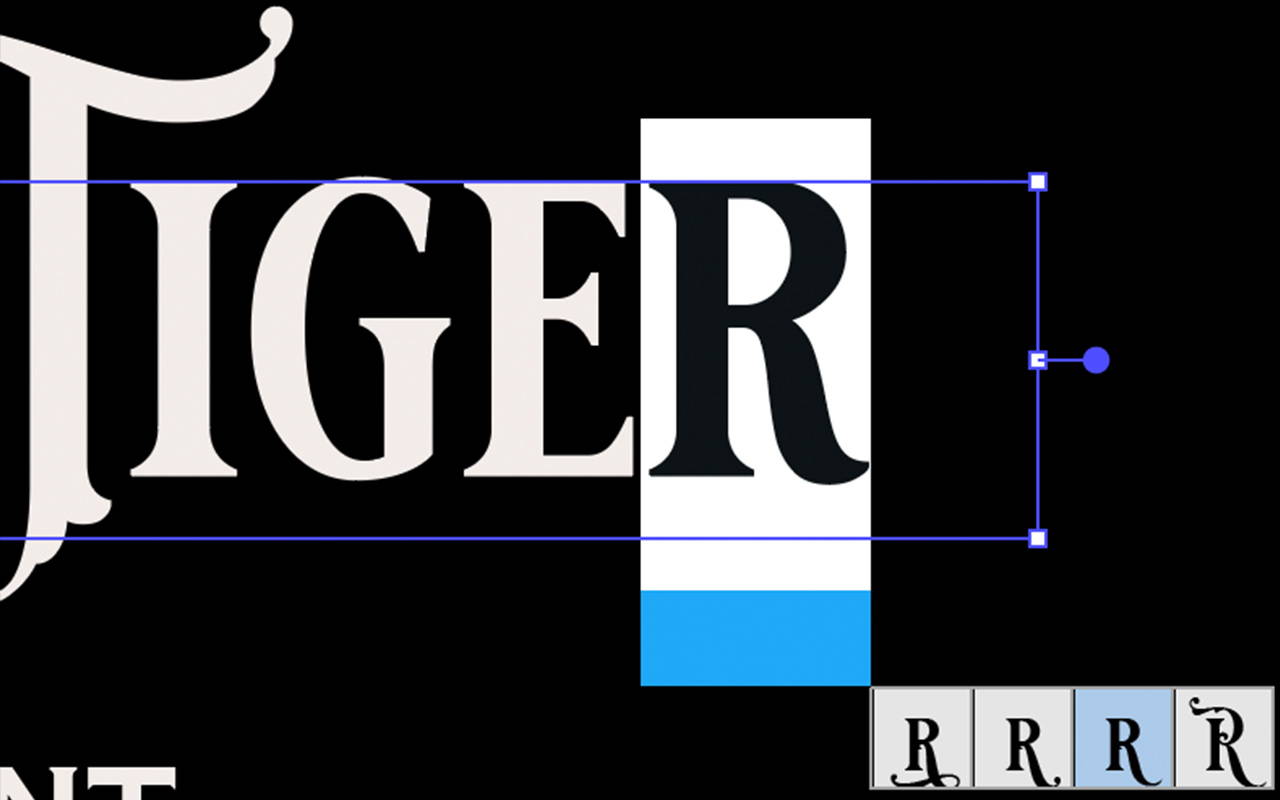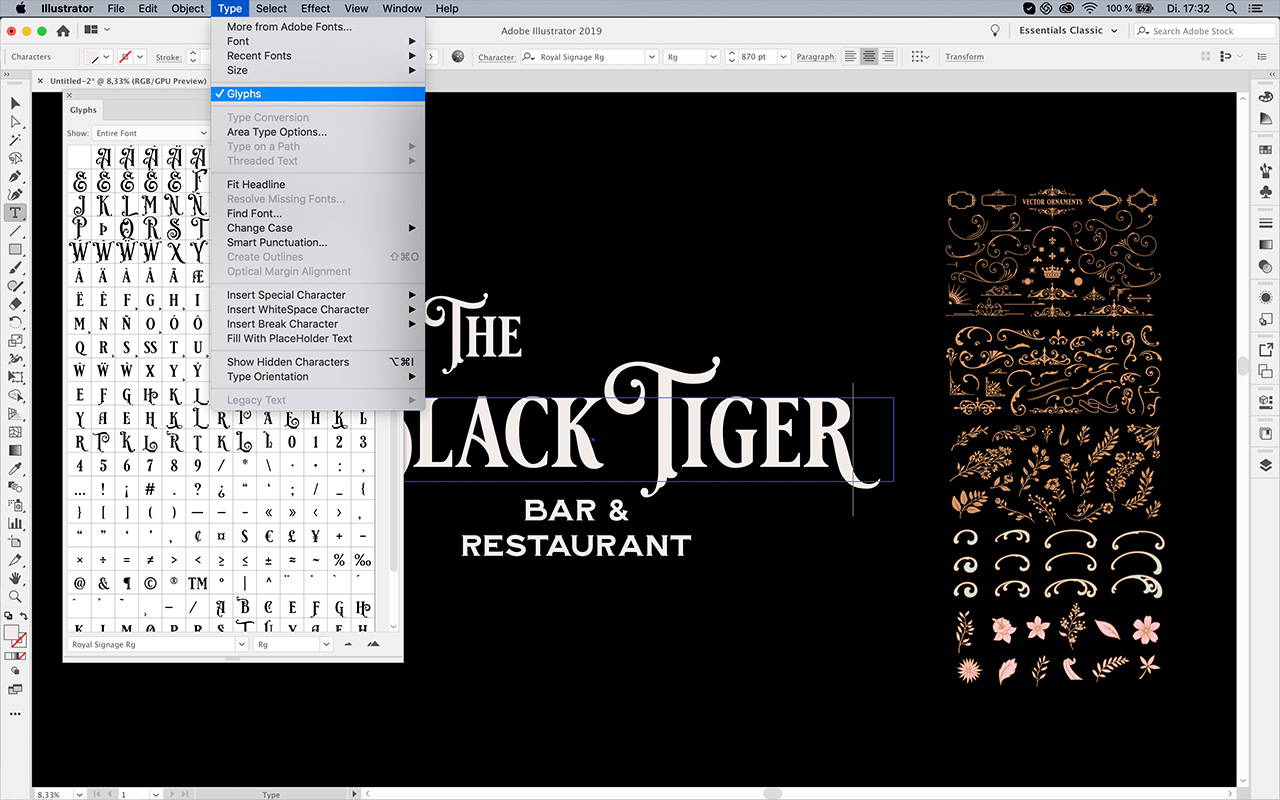 Now I add some special glyphs to make the lettering more exciting. If you are using the newest version of Adobe Illustrator, you can simply mark the letter you would like to change and a little menu will appear with all your options. Another possibility and the best way for older versions is to open the Glyphs panel by clicking on Type –> Glyphs on your top navigation. You can add the alternate characters by double-clicking a letter within the Glyphs overview and it will show up in your text field.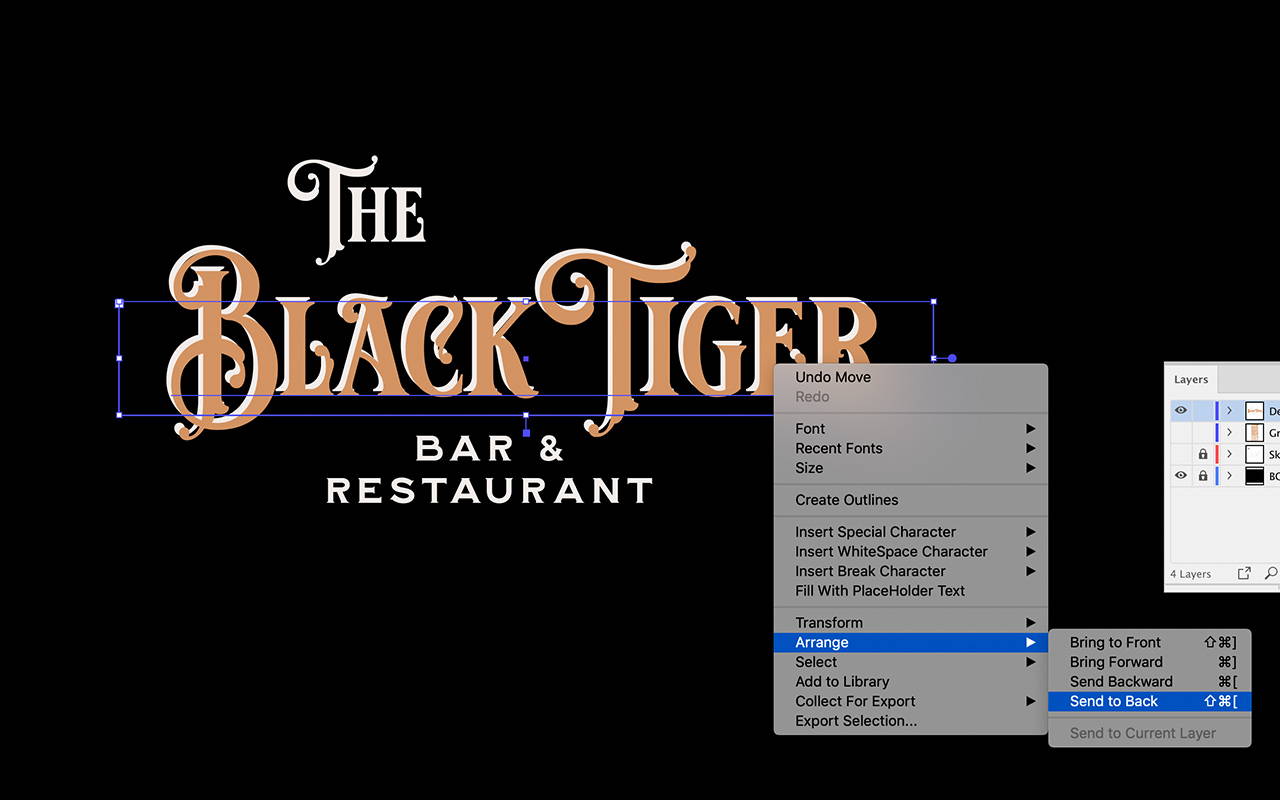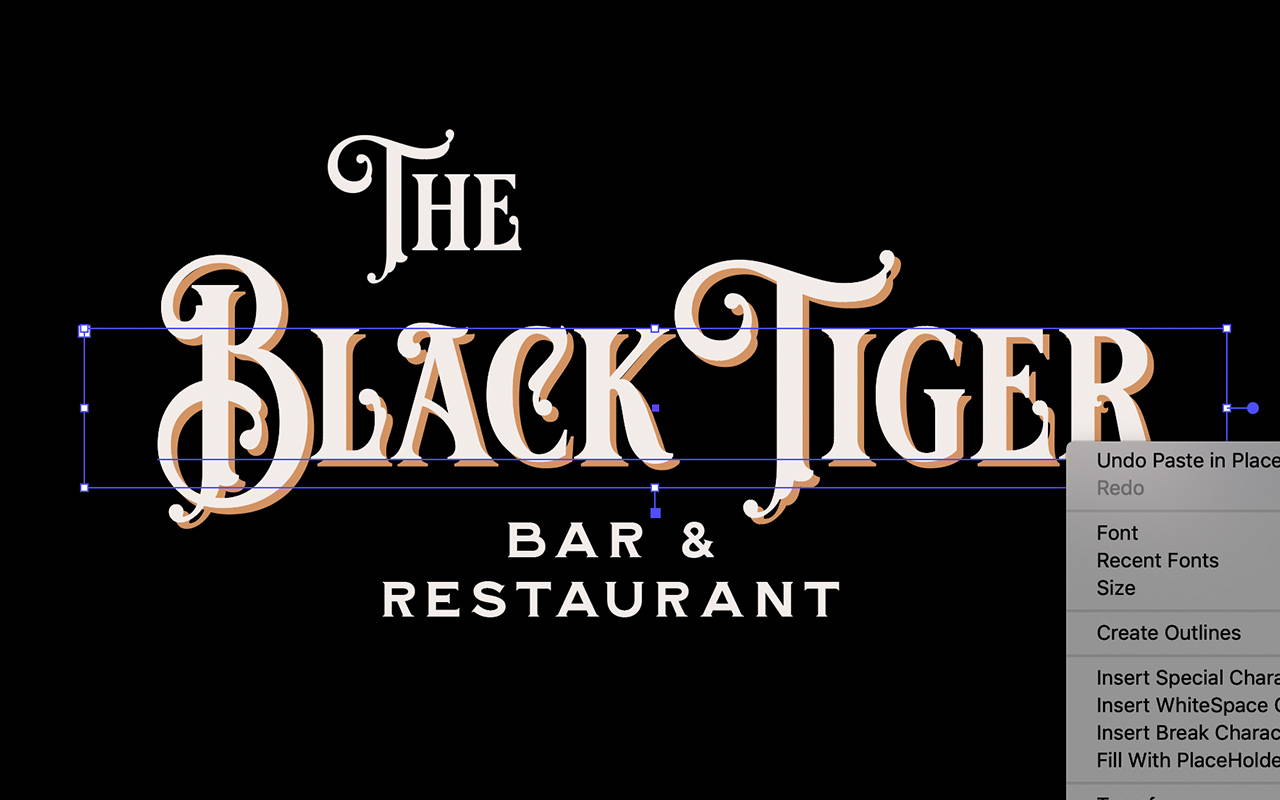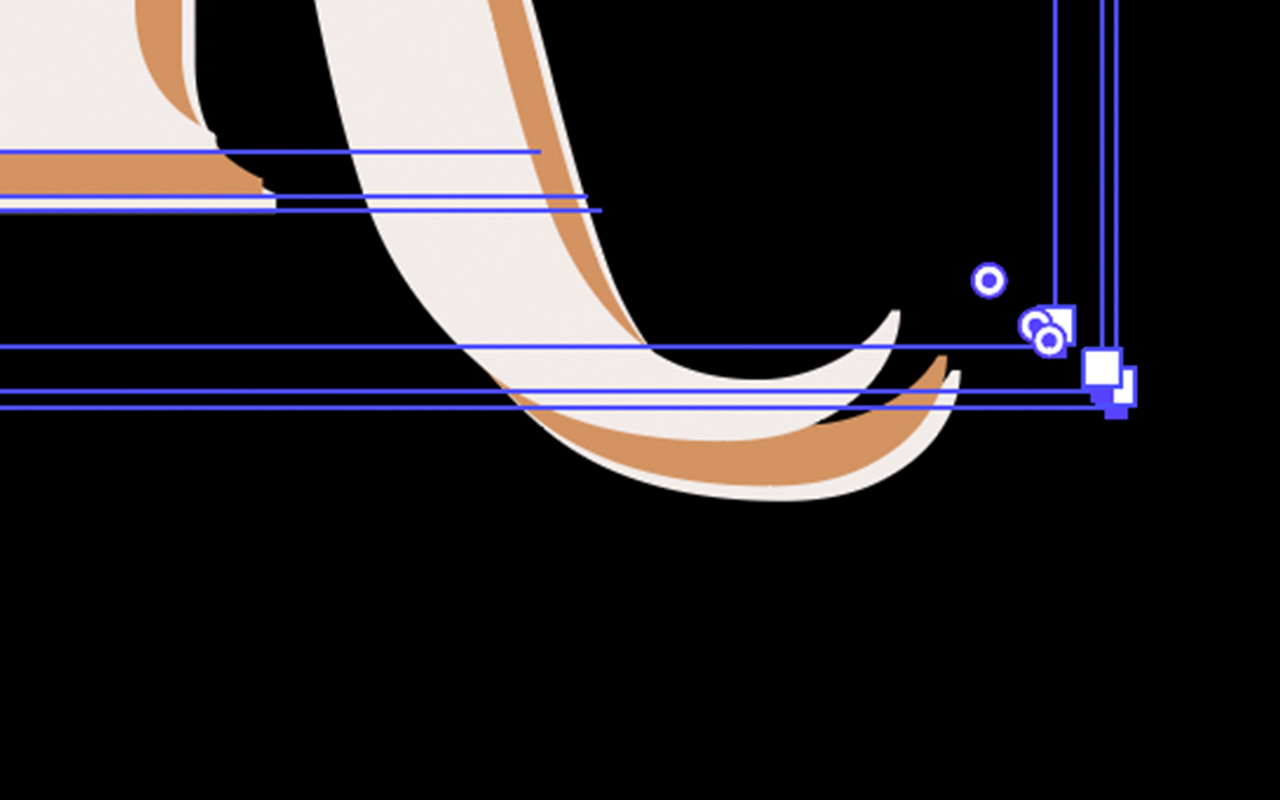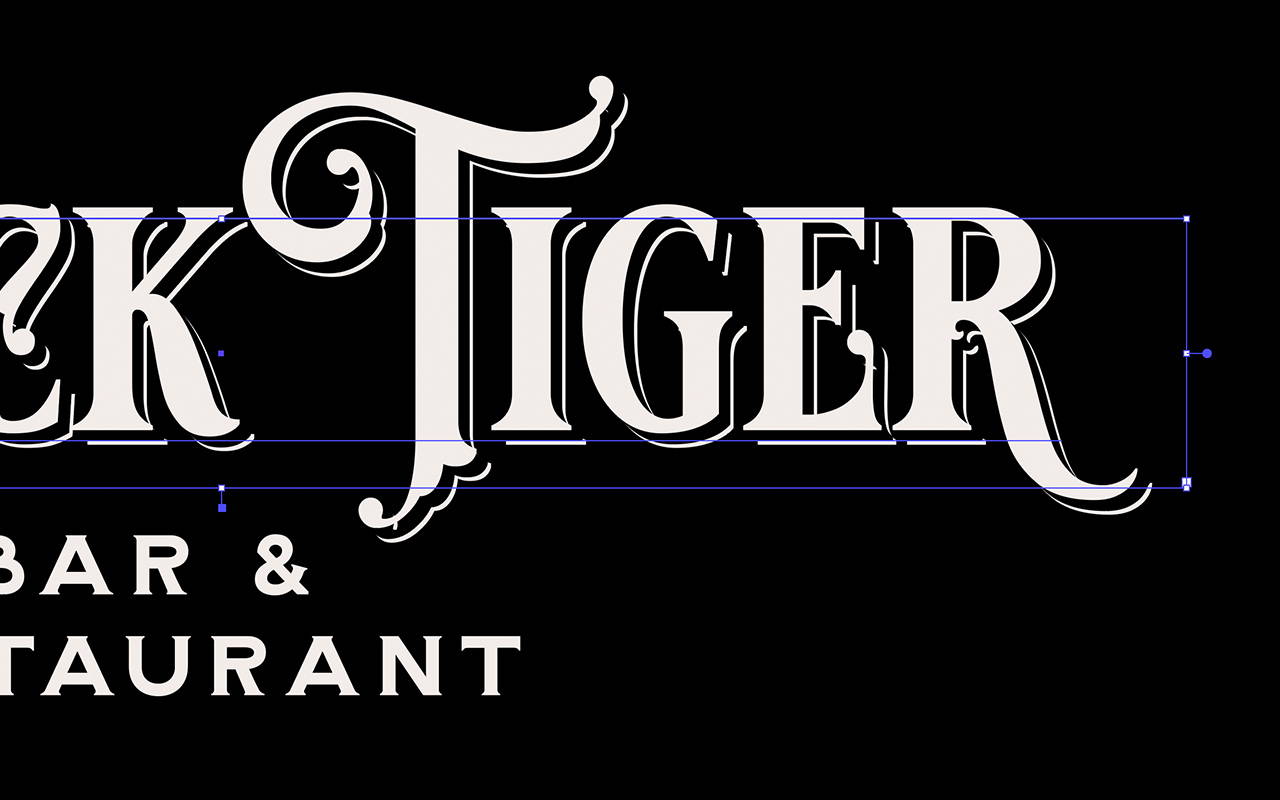 Now I add a simple drop shadow to my main words. Click on the text field –> Copy (Command+C) and Paste in Place (Command+Shift+V). I give it a different color, moving it a little bit to the side, right click and choose Arrange –> Send to Back. Like you can see in the second picture, we already have a shadow now by simply overlapping two elements. But I want to have more like a shadow line here, so I repeat this and I get three elements on top of each other. For the middle one I choose the background color and for the one in the back I choose gold.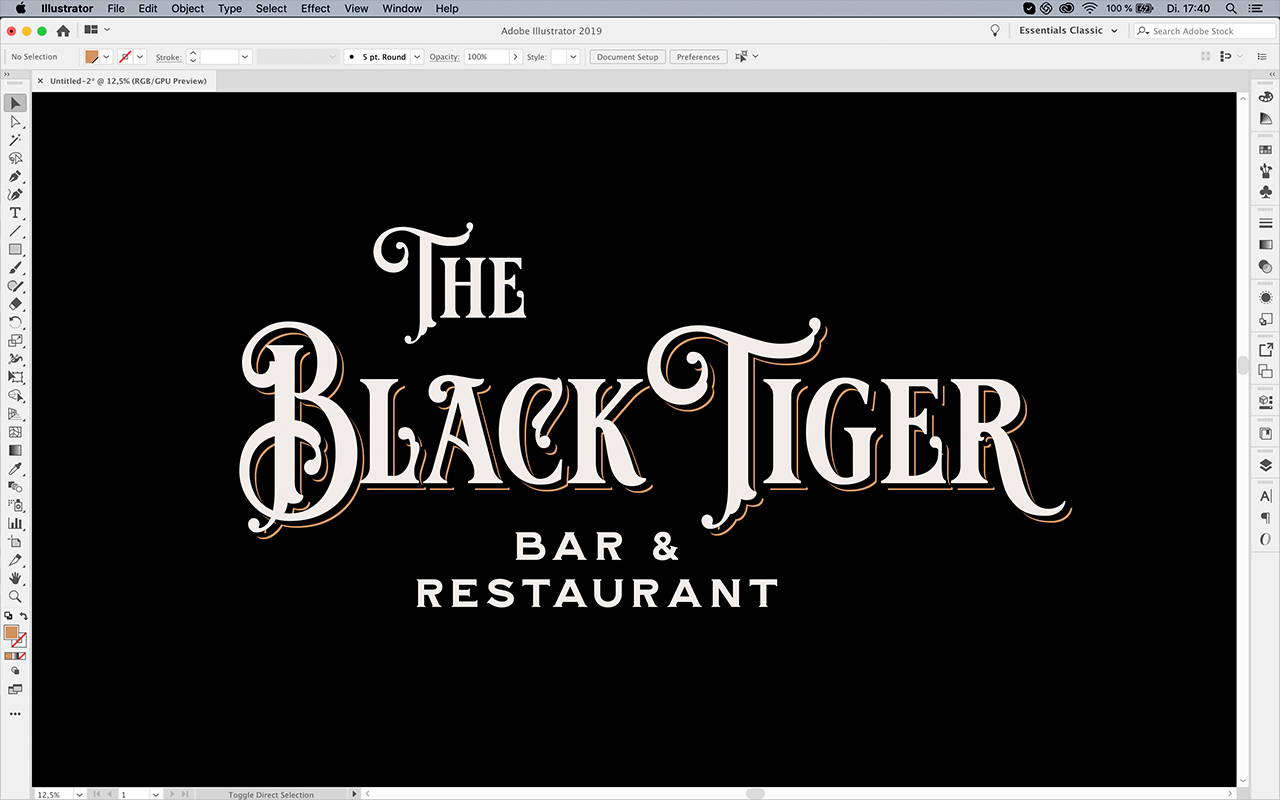 1 comment
Thanks dude! Helps a lot!
Josh B.
November 05, 2019
Leave a comment